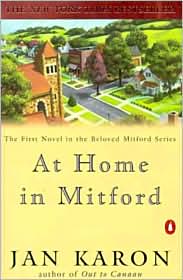 If you haven't had the chance to listen to these books on tape... do. They are lovely; really sweet to listen to. John
McDonough
does such a fantastic job reading these books so fantastic in fact that you get the sense of the characters so much you feel like they really are your neighbors.. people you see everyday.
Every once in a while, a book like this is a must. Full of faith and optomism, they are the perfect foil to the rantings of TV journalists who spew forth doom and destruction at every turn. Sometimes the spirit just needs a break.
I personally have been exhausted by the gloom of the past weeks. I hope the congress can get their act together and we can get this financial mess sorted or atleast begin sorting it. I couldn't even make myself watch the VP debates last night... This election, while extremely important has lasted an eternity.
If you are feeling like me, a mini vacation to Mitford is just the thing. These books are perfect with a basket full of ironing and a cold drink.